Why would anyone want to spend a vacation among the remnants and debris of a 30-year war that introduced suicide bombing to the modern world and led to the disappearance and deaths of thousands of innocents? The answer is that Sri Lanka has bounced back to normalcy, restoring peace and gaining political stability within a short period.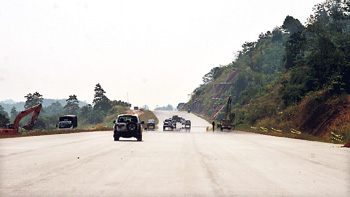 Southern Highway
No other war affected country in the world has been able to make such achievements so soon in the aftermath of a war, according to the Chairman of the Sri Lanka Tourism Development Authority (SLTDA) and Sri Lanka Tourism Promotion Bureau (SLTPB) Eranga Basnayake.
The SLTDA plans to expedite infrastructure development in existing tourism locations and to develop Kalpitiya islands under an integrated project while the authorities also plan to attract half a million tourists this year with earnings of US$ 600 as the travel industry recovers rapidly after the end of the war.
The upgrading and refurbishment of tourist hotels, and the setting up of around 50 to 60 'comfort centres' by the roadside leading to tourist destinations are now underway. Mr Basnayake, a gem businessman in Balangoda who served as a director at the State Gem Corporation and is an accountant, said that the aim is to link up the overall infrastructure development program in the country to ensure that most essential pre requisites are in place for tourism investments.
These centres will have a cafeteria, rest room cooking facilities as well as sanitation facilities mainly for local travellers who are going on pilgrimages and pleasure trips. When tourists ride out of Colombo to outstations, they can refresh at these centres which will be managed by the private sector. It will also be used to maintain the area clean with the help of residents and visitors, he said.
The SLTDA is fast-tracking the development of Kalpitiya islands to create a unique, branded international green resort for up-market tourism, which would be a benchmark project in the region, hoping to surpass tourism in the Maldives.
Mr Basnayake said that the ownership of 14 out of 22 islands in Kalpitiya covering an area of 4000 acres will be handed over to prospective investors on a 30-year lease for this purpose under this Integrated Tourism Development Project. This is believed to be the largest ever tourism project that the island has ever seen. The project aims to develop a total of 17 hotels with three five star deluxe hotels and three four star hotels adding 5000 new rooms and 10,000 beds.
Several reputed international hotel chains, have already made plans to build luxury resorts comprising of premium leisure, spa club and floating restaurants. Similar development initiatives have been made in the East Coast as well. In this endeavour setting up of several luxury resorts in the areas of Pasikudah and Kuchchaveli has already been planned as the first phase of development, he said.