In banking, all consumer segments have been exhausted except for the rural sector, according to Chairman of Sri Lanka's National Savings Bank, Sajith Attygalle, who is also the Director General of the Fiscal Policy Department of the Ministry of Finance and Planning.
This was noted by Mr. Attygalle during his welcome speech to foreign representatives from Latin America, Africa and Asia at the recently concluded World Savings Banks Institute (WSBI) Cross Regional Conference 2010, held in Colombo.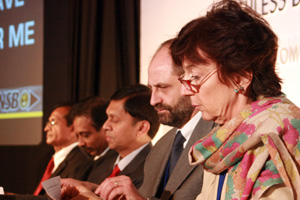 Speakers at the head table
Further, according to conference speaker Cuno Guttler, Head of the International Department of the Savings Banks' Association of Rhineland, said to be one of the world's largest groupings of savings banks, with 438 members; there was a decreasing preference by consumers toward branch banking as suggested by a decrease from 82% using branches in 1985 to 38% today.
Additionally, he also indicated that an ever-increasing number (maybe as much as 60%) preferred multiple access channels, including Point of Sale, Automatic Teller Machines and electronic and mobile banking, over the more traditional branch network. All of which pointed to the need for greater emphasis on branchless banking, which formed the overall theme of this conference.
Meanwhile, the keynote speaker at the conference inauguration, Central Bank of Sri Lanka Governor Ajith Nivard Cabraal, noted that the country has more than 4,000 bank branches. Further, while the growing interest in branchless banking was understandable and timely, he urged caution, suggesting that bankers must be mindful of the risks associated as well as the reasons that people started using bank branches in the first place, benefits such as customer satisfaction, loans, etc.