Global banking giant HSBC intends to compete in segments where it can make the most impact and "not be all things to all men". As such, it will focus on its Premier services product, amongst others, for future growth in Sri Lanka as it can beat the competition in this product category. These comments were made by HSBC's Head of Human Resources (HR) Asia-Pacific, Nigel Fretwell to the Business Times during his first official visit to the island since taking up this regional leadership position 18 months ago.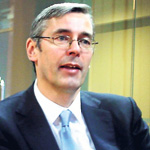 Nigel Fretwell
Further indicating that HSBC was endeavouring to be a key party in supporting the domestic economy, a role for which the company had spent the last two years 'aligning', Mr. Fretwell suggested that this was in keeping with HSBC's wider future growth strategy that included backing emerging markets and, in particular, developing Asia, which he termed the company's "heritage"; as witnessed by the recent relocation of HSBC Group Chief Executive Michael Geoghegan to new headquarters in Hong Kong. He also noted that, due to peace and political stability, after the upcoming April general election, the country had a strong platform for growth, a feeling which he felt sure was also shared by HSBC's competitors.
Referring to his own field of HR, Mr. Fretwell indicated that Sri Lanka was a very important part of the region and this was backed up by a sense of momentum seen in 2009 as well as continued strong brand growth in the local market. Meanwhile, he also noted that this sense of positivity was not just felt by the corporate leadership but also by staff, who had indicated as much to him on his recent visit.
This outlook had also emerged in the findings of the annual survey undertaken by local HSBC staff that had had the opportunity, along with their colleagues around the world, to anonymously comment on their local situation. Additionally, Mr. Fretwell indicated that a main concern of local staff, in keeping with this time of year and other factors, was rewards; a concern which was also often shared across the network, and, as such, he revealed that local staff would this year be 'supported by more money on the table to address their bonus' needs.