MAS Intimates Thurulie, the 'iconic' eco-manufacturing facility of MAS Holdings was recently awarded the LEED® (Platinum) certification established by the U.S. Green Building Council (USGBC) and verified by the Green Building Certification Institute.
LEED is the world's pr-ominent programme for the design, construction and operation of high performance green buildings. Built under the auspices of Marks & Spencer's Plan A eco-initiative, MAS Intimates Thurulie was the world's first purpose-built green factory for apparel manufacturing, the company said in a statement.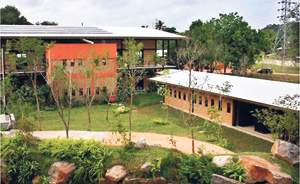 View of the factory
"This unique departure from the traditional factory model delivers 40% savings in energy and 50% savings in water compared to a similar facility. It also generates 10% of the electricity consumption from solar panels set on its roof. The factory carbon footprint was assessed to be 9 tonnes per year – probably one of the lowest in the world. A key innovation at Thurulie is its adaptation of 'evaporative cooling' for a hot/humid environment, providing thermal comfort with a minimal energy use. This innovation was validated by USGBC when they awarded 16 out of a total 17 points related to energy, as well as all the points related to thermal comfort design. A LEED Platinum building with an evaporatively cooled system in a tropical climate has never been done before, " it said.
Rick Fedrizzi, President, CEO and Founding Chair, USGBC said the green building movement offers an unprecedented opportunity to respond to the most important challenges of the globe including global climate change, dependence on nonsustainable and expensive sources of energy and threats to human health.
"The work of innovative building projects such as MAS Intimates Thurulie is a fundamental driving force in the green building movement." Dian Gomes, Managing Director of MAS Intimates said, "We are proud of this ground-breaking achievement. With this project, we have shown again that in any area we put our focus on, MAS and Sri Lanka are second to none."