John Keells Holdings (JKH) is refurbishing and maintaining the historic Slave Island Railway Station to retain this 'social, economic and commercial treasure', while preserving its colonial architectural value, the company said this week.
Commencing in 2002, the project is aimed at restoring the station to its original splendor and enabling modern facilities to compliment the age-old architecture by refurbishing and modernizing the level crossing, bridge and other amenities within the staion.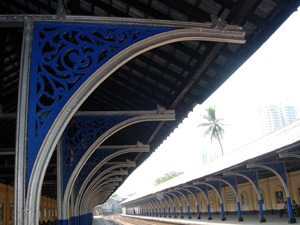 Picture shows the facade of the Railway Station.
"Working on the basis that the station should not be just another amenity to the people who pass by, but more so, clean and user friendly, JKH ensures daily maintenance of the station. Other aspects of renovation include the reconstruction of the overhead bridge with additional roofs to the two sides, which has proved to be immensely useful for commuters during the rainy seasons.
In addition, all benches have been repaired and painted so that they could be fully utilized during peak hours, the ceiling at the main entrance / ticket counter fully redone, the building re-painted, and all necessary lights replaced, ensuring that there is a pleasant appearance on entering the station," it said in a statement.
The next phase will involve paving the concrete blocks and erecting a gate at the side entrance to facilitate the rush hour workers. Station Master of the Slave Island Railway Station M.A.C. Gunawardene, said the facilities and appearance of the station has improved drastically as a result of this project.