Killed by a mosquito, nine-year-old Ricky Thomson is mourned by loved ones, neighbours, relatives, fans and friends gathered around his coffin, in Ricky's home in Ratmalana. Grief and shock twist the face of Ricky's father, the veteran film director and film producer, Sunil T. Fernando. He stares at his son. Ricky's beloved stuffed toy bear Winnie-the-Pooh lies beside him.
"We can't believe our son has left us – it all happened so suddenly and so fast," said Mr. Fernando, his eyes filled with tears. According to his father, little Ricky rarely fell sick. There were no preliminary signs of illness, such as fever. It was when Ricky started to bring up blood that the family realised something was seriously wrong, and rushed him to hospital. Ricky, a student of St. Peter's College, Colombo, was in the intensive care unit of a private hospital for four days.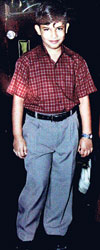 The late Ricky Thomson, 9 years.
"Ricky got worried when the doctors and nurses started to insert tubes into his nose. He asked whether he was going to die," Mr. Fernando said. Two doctors in the medical team attending to Ricky Thomson insisted he be taken to the Lady Ridgeway Hospital for urgent treatment.
"We rushed him to the Ridgeway, but his condition got worse. We heard that five children with dengue had died the previous day. I was praying to God to spare my son's life. We went all over town to buy medicines. His breathing stopped, the medical team resuscitated him, but this lasted only a few moments, and then he was gone."
Mr. Fernando goes into his son's room, which is filled with books. "Ricky loved reading," he said. "He read all the Harry Potter books when he was in Grade Four. He preferred the books to the films, which he found silly. He often told me to read the Harry Potter books.
"He was my only son, and I had high hopes for him. The Ricky cinema I own is named after him. I wanted him to take over all 14 of my cinemas one day. But he said he wanted to be a priest. He was a very religious child, which is unusual for a boy of his age."
The couple have a daughter, Christine, who is a year younger than Ricky. Ricky's mother Elangica told the Sunday Times that she was not in a state to talk to anyone or be interviewed by the media.
Mr. Fernando said his son's short stay at the Lady Ridgeway opened his eyes to the dire need for medicines at hospitals.
"There were several deaths at the hospital while Ricky was there," he said. "Parents of patients were desperately running around trying to find money to buy medicines from outside. In our case, money was not an issue, and we could get the medicines. The health authorities should supply the needed medicines to state hospitals, where so many come for treatment. Even those who go to private hospitals end up going to government hospitals."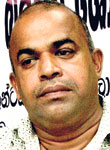 Father grieves: Producer / director, Sunil. T. Fernando
Mr. Fernando said hospital beds were also in short supply to accommodate the large number of children brought daily to hospital for dengue treatment. "The epidemic is claiming lives every day. The government should be involved and doing its best to prevent more casualties," he said.
The Dehiwala-Mount Lavinia municipal area has been declared a dengue high-risk zone. The largest number of dengue cases and dengue-related deaths has been reported from this area. The majority of the patients have been children.
Colombo South Teaching Hospital (Kalubowila) director Dr. Anil Jaasinghe told the Sunday Times that at any given time there were 70 to 80 patients receiving treatment in the hospital's medical and paediatric wards. "About 40 to 50 cases of suspected dengue come to the hospital, and the number is increasing," he said.
Most of the cases are from the Dehiwala, Piliyandala, Moratuwa and Ratmalana areas, he said. At present, the Kalubowila Hospital has some 150 warded patients, but there are only 50 beds. According to hospital matron S. Swarnalatha, who has been in charge of the Kalubowila Hospital paediatric ward for the past 25 years, most of the child patients down with dengue are between seven and eight years. This year has been an especially bad one for dengue cases, she added.
"We have 38 beds in the paediatric ward, and between 90 and 100 patients. There are between two and three children per bed. The mothers sleep on the floor. We are even using tables used by the doctors and consultants. Children are coming here from private hospitals for emergency treatment."
Six-year-old Mithun Vidulanga from Panadura is one of the dengue patients. He has fever, and is on a saline drip. Mithun's mother Srenika says his fever keeps rising and falling, and that he has even vomited blood. "There are a lot of cases of fever in our area," she said. "We have complained to the authorities, but there has been no response."
The Sunday Times accompanied a team of public health inspectors from the Dehiwala-Mt. Lavinia Municipal Council on inspection visits to houses and neighbourhoods in Dehiwala.
Children are the most at risk as dengue patients continue to arrive in large numbers at hospitals every day.
They found a number of mosquito-breeding and potential breeding spots on the premises of houses belonging to both low-income and upper-middle class families. The occupants were mostly working couples. The inspectors identified bird baths, drains, gutters, flowerpots, old tyres and potential rain-water containers such as yoghurt cups, bottle lids, empty coconut shells and discarded thambili nuts.
The residents said the municipal authorities had failed to keep the roads and drains clean, collect garbage and inspect bare land and empty houses. They said garbage was piling up outside houses, and that it was seven to 10 days before anyone came to clear the garbage.
Meanwhile, stray dogs and cats in search of food tear open the garbage bags, and mosquitoes start breeding wherever rainwater accumulates. The Sunday Times observed garbage-collection vehicles arriving and leaving in a hurry, before residents could bring out their garbage. "They will pick up your garbage bags only if you bribe them," said residents living on Waidya Road, Dehiwala.
Unoccupied and neglected lands are a major problem in the battle against the deadly dengue mosquito, said Sunetra Ranasinghe, mayor for the Dehiwala-Mt. Lavinia municipal area.
"A lot of residents have migrated leaving Dehiwala, and empty lands, houses and gardens have become mosquito breeding sites," she said, adding that abandoned lands and premises would be taken over if the owners failed to respond to warning letters and notices from the authorities.
Residents' indifference to hygiene and clean living was the main cause for the spread of dengue, she said.
"People just don't care. They don't bother to keep their drains and gutters and surroundings clean. They all wait for the municipal authorities to come and clean up after them," she added. School principals have been told to keep their premises clean, as most of the dengue victims are school-goers. "The principals say passers-by throw garbage into the school premises. We will be taking legal action against such persons."
Mayor Mrs. Ranasinghe said government garbage-collecting vehicles have been ordered to collect garbage at least twice a week. "It may be that some of our staff are not doing their job. We will certainly take action if we receive complaints from the public," she said.
Vulnerable zones marked out
Medical authorities have identified the following municipal areas as dengue vulnerable:
Colombo Municipal Council, Kotte Municipal Council, Moratuwa Municipal Council, Boralegamuwa Municipal Council, Maharagama Municpal Council, Kesbewa Municipal Council, Kolonnawa Municipal Council, Homagama Pradeshiya Sabha;
Gampaha Muncipal Council, Negombo Municipal Council, Ja-ela Urban Council, Ja-ela Pradeshiya Sabha, Wattala Urban Council, Wattala Pradehsiya Sabha, Kelaniya Pradeshiya Sabha'Kalutara District, Panandura Urban Council, Panadura Pradeshiya Sabha, Horana Urban Council, Horana Pradeshiya Sabha;
Kandy Municipal Council, Akurana Pradeshiya Sabha, Thumpane Pradeshiya Sabha, Gangawatakorale Pradeshiya Sabha, Udunuwara Pradeshiya Sabha, Kundasale Pradeshiya Sabha, Haripasttuwa Pradeshiya Sabha, Gampola Urban Council, Udapalatha Pradeshiya Sabha, Yatinuwara Pradeshiya Sabha, Kadugannawa Urban Council, Wattegama Pradeshiya Sabha;
Matale Municipal Council, Matale Pradeshiya Sabha, Ukuwela Pradeshiya Sabha, Rattota Pradeshiya Sabha; Kegalle Urban Council, Kegalle Pradeshiya Sabha, Mawanella Pradeshiya Sabha, Aranayake Pradeshiya Sabha, Warakapola Pradeshiya Sabha, Galigamuwa Pradeshiya Sabha, Ruwanwella Pradeshiya Sabha, Rambukkana Pradeshiya Sabha, Yatiyantota Pradeshiya Sabha;
Ratnapura Municipal Council, Ratnapura Pradeshiya Sabha, Embilipitiya Urban Council, Embilipitiya Pradeshiya Sabha, Eheliyagoda Pradeshiya Sabha, Pelmadulla Pradeshiya Sabha;
Kurunegala Municipal Council, Kurunegala Pradeshiya Sabha, Ridigama Pradeshiya Sabha, Polgahawela Pradehsiya Sabha, Narammala Pradeshiya Sabha, Ibbagamuwa Pradeshiya Sabha;
Puttalam District: Puttalam Urban Council, Puttalam Pradehsiya Sabha, Chilaw Urban Council, Chilaw Pradeshiya Sabha, Wennappuwa Pradeshiya Sabha;
Jaffna Municipal Council, Manipai Pradeshiya Sabha; Matara Municipal Council, Devinuwara Pradeshiya Sabha;
Tangalle Urban Council, Tangalle Pradeshiya Sabha, Beliatta Pradeshiya Sabha, Katuwana Pradeshiya Sabha;
Trincomalee Urban Council, Trincomalee Pradeshiya Sabha, Kinniya Urban Council, Kinniya Pradeshiya Sabha; Vavuniya Urban Council;
Batticaloa Municipal Council, Kattankudy Pradeshiya Sabha.
Melsiripura mum loses life-and-death battle
By Mohamed Buharrudin, in Galewela
K. D. Wijitha Malkanthi, 36 years, of Welpaha, in Palliyadda, Melsiripura, passed away last week after a brief battle with dengue.
Her husband, D. D. Gunatilleke, said Malkanthi was admitted to the Kurunegala Teaching Hospital on July 6, after running a fever for two days. She recovered after treatment at the hospital, but again started to run a high fever at night.
"We then took her to the Galewela Hospital," Mr. Gunatilleke said. "When I visited the next morning, I was told my wife was in critical condition and had to be transferred to the Kurunegala Hospital. "She was in the emergency ward, on life support. When the hospital staff relaxed the oxygen supply for a bit, she said her stomach and chest were hurting.
"The next morning I went up to her bed. I held her hand. It was cold. I screamed." A doctor came over and said: "Your wife passed away early this morning. We did our best to save her life, but …" K. D. Wijitha Malkanthi's funeral took place last week in Welapaha. The entire village was present at the funeral.
Operation launched: STF on the offensive
Members of the Police Special Task Force (STF) are engaged in a cleaning-up operation in Colombo and suburbs, in a hygiene programme following the outbreak of dengue fever. The STF, who were seen clearing and cleaning up Rajagiriya and neighbouring areas over the past few days, will next focus on the Dehiwala-Mt. Lavinia municipal areas. Picture by Gemunu Wellage Meanwhile, members of the Civil Defence Staff worked alongside public health officers (below) in anti-dengue cleaning-up campaigns in Ampara and Trincomalee. Pic by Amadoru Amarajeewa