As the body lay stiff in the wooden coffin at a modest abode in Buttala, thousands of university students took to the streets in the southern town of Matara this week in angry protests over the death of a young undergraduate on Friday, whom they claim died as a result of a police beating five days earlier.
| | |
| --- | --- |
| | |
| Susantha | A mother seeking justice |
Susantha Anura Bandara-a fourth year student at the Ruhunu University died barely a week after he was admitted to the Badulla hospital and the cause of his death is currently being disputed from all sides.
Police say they had nothing to do with the student's death and that a fellow student was responsible although no arrests have been made in this connection so far.
Police Chief Mahinda Balasuriya said that the post mortem report revealed that the victim had died of natural causes, but barely 20 hours after making this announcement, he directed the CID to move into Buttala and hold a thorough investigation.
Meanwhile, student groups are gearing up for mass street demonstrations and protests country wide following the funeral this week, while the universities went into mourning.
Udul Premaratne from The Inter University Students Federation (IUSF) told the Sunday Times that there was plenty of evidence to show that the victim had died as a result of police brutality.
"They (the authorities) are trying to cover up a crime by presenting medical reports etc. We have also received reliable information to suggest that interested persons had visited the victim's home to influence the thinking of his parents and relatives," Premaratne said.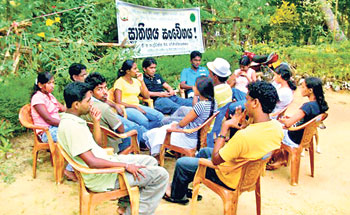 University colleagues at the victim's home
Clashes between the students and police erupted on July 17 and 18 at the Ruhuna University and as a result the campus was closed down. He had reportedly received a blow to his back during clashes with the Police.
On the 18th Susantha had apparently called his mother Violent Manatunga and said he would be spending the night at a friends place in Buttala. On returning home he had taken ill and he was treated first at the Buttala hospital and later transferred to Badulla Hospital where he died.
However, Premaratne said, before Susantha died on July 22, the victim had apparently told his mother that a fellow undergraduate known as "Bassa" had come to his room and hit him on his head with a pole but he had kept quiet, fearing reprisals. Instead he had blamed the Police for the blow.
Susanth's mother who worked for many years as a domestic aide in West Asia to provide a better life for her son is a shattered woman today. "I want justice done. I don't believe he died due to natural causes," she said.
Susantha who was born in 1985 is an old boy of Dutugemunu Maha Vidyalaya in Buttala.