If only politicians could play the game the way Sri Lanka's cricketers do. Sadly, it is futile to entertain the faintest hope that our political leaders would ever aspire to the heights of a Muttiah Muralitharan.
Described by his captain as the greatest bowler to play the game, Murali gracefully retired at the height of a stellar career on Thursday at Galle, dramatically snatching his 800th test wicket with his last ball in a victorious final match against India.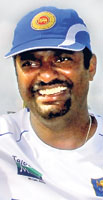 Muttiah Muralitharan
Those magical Murali performances will be missed by cricket fans as much as that trademark fiendish expression, while making lethal deliveries and the disarming grin, on or off the pitch. Apart from his iconic status as a sportsman, fellow cricketers and commentators seem to agree that Murali's humility and unassuming nature made him everybody's hero. His departure from test cricket may be regretted by admirers, but the example he set will inspire generations to come.
The cricketing legend is respected all the more, for having bowed out at the peak of his popularity. One commentator congratulated him for calling it a day "when people may still be asking him "why are you going?" rather than "why not?"
Now is there the remotest possibility that leaders of Sri Lanka's ruling coalition or the leader of the opposition would think along those lines? We have on the contrary a president who sought changes that would allow him to contest the post indefinitely, and an opposition leader who demonstrates incredible tenacity of purpose in refusing to step down from the party's top spot, despite 16 electoral defeats in a row and near-mutiny within party ranks.
Whatever the noble objectives of our leaders may be, giving the other chaps a chance is obviously not one of them. Compare this attitude with that of Murali, who matter-of-factly explained to a reporter that there were "three spinners and only two can play. So if I am there I am blocking some 25-year-old. There is nothing more for me to achieve, so I thought this should be the end."
In a country riven by a war that heightened ethnic polarization in society, cricket was one thing that drew Sri Lankans together irrespective of race or religion, and Murali in some way epitomized that blurring of difference. Neither his fans nor the public in general ever thought of him in terms of race, but as "our Murali." It was one of those things that was beyond the comprehension of the "Badly Biased Corporation," whose interviewer a couple of weeks ago asked him what it felt like to be a Tamil playing for Sri Lanka.
"Did you feel you were playing for ALL Tamils?" ventured the TV host. Murali was probably as puzzled by the question as the interviewer was by his reply. He simply said that he played for Sri Lanka, adding that he was from Kandy, he lived among members of other communities and he felt no differences.The moral of Murali's story is perhaps that unlike the political leaders who scheme and plot to extend their moment of glory, thereby courting their own downfall, the wise bow out while they are still winning.
The leader of the ruling party, reluctant to leave high office when the time is up, may argue (not very convincingly) that he has the 'mandate of the people.' But the leader of the opposition has neither that kind of mandate – with people having voted with their feet to prove the point – nor the solid support of party insiders. And still he shows not the tiniest bit of intention of calling it a day. It's just not cricket.
The writer is a senior freelance journalist.