How are you going to tackle the growing number of crimes, including drug trafficking?
Measures we have taken have helped us keep underworld gangs in check. Moves are under way to eradicate the threat from drug traffickers and thieves. Separate teams have been appointed to deal with each of these problems.
Of late, there has been an increase in crime against women and children. What are the measures you are taking to deal with this problem?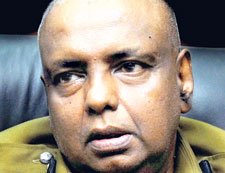 Inspector General of Police Mahinda Balasuriya: Peoplising police
During the war, some of the crimes went unreported. This is because some areas did not have police stations. Therefore, the incidents which went unreported earlier are being reported now. On the public day, the day I have set aside to hear public grievances, many complaints about crimes against women and children are made directly to me. We are investigating them.
In recent months, the number of road accidents has also increased. Your comments?
Daily about six fatal accidents are reported and this is not a good trend. There are several reasons for the high incidence of road accidents. Chief among them are drunk driving and speeding. We are now taking traffic law offenders to courts.
We also see a large traffic police presence on Colombo roads. Why?
Traffic congestions in Colombo city and suburbs are a major problem. Therefore I have brought more traffic police officers into the city. During office hours we are strict on parking laws. This is a new traffic plan to ease congestion.
You have issued a warning to your own men who violate traffic laws.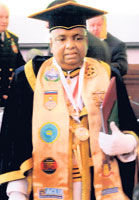 IGP Balasuriya after receiving a doctorate from a Russian university last month.
Yes I have instructed the police to take action against them, unless they are going on an official duty. I have noticed that some police officers park their vehicles in no-parking areas.
Some take U-turns or left turns in places where no such turns are allowed. I have told the police to take action not only against the police driver, but also against the senior police officer in the vehicle.
What about the policemen who commit other offences?
Some have been accused of taking bribes. I act tough against police officers who commit offences. If there is a complaint against a police officer, I act immediately.
What are the key changes you have made in the Police since you took over as the IGP?
I have brought every police station under a DIG. I have asked SSPs and the DIGs to be present in their offices on every Wednesday so that the people will have access to them. We have also started computer training and English classes for police officers. These classes are conducted by lecturers from the Peradeniya University. We have also launched a police mobile service, taking the police to the people.