Visitors are once again flocking to the Dehiwela zoo to see 22, one-foot long baby anacondas crawling and hiding in their display cages. This is the second time that the two green adult anacondas, who were gifted to the zoo by the Czech Republic in 2003, gave birth in captivity.
Commenting on this second round of baby anacondas, the zoo's reptile supervisor Premasiri Pieris said anacondas are shy creatures and almost never attack. The female was pregnant for eight months before giving birth on July 11.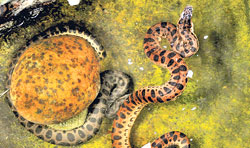 Two of the baby anacondas (above) and a little girl looks at one of the adult anacondas.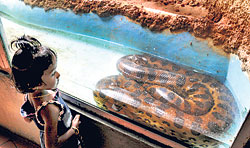 He said the babies who eat suckling rats and small fish are fed once each week. "To feed them we shift the baby snakes to cages containing live rats and leave them there for the night. The next morning, once they have had their fill, the babies are transferred back to the display cages. It is a difficult process to shift them from one location to another as they always tend to hide and swivel past us," Mr Pieris said.
In 2008 when the first lot of baby anacondas were born there was a lot of excitement and visitors to the zoo were seen touching and feeling the tiny cratures. Soon disaster struck and they succumbed to some infection.
"Even though the mother snake gave birth to 23 babies last time, only 10 of them survived initially. After about a year and five months they too died. We do not know why or what they died of but this time we are taking precautions," Mr Pieris said adding that only he and three others are allowed to handle the snakes.
Last time the mother snake was believed to have eaten some of her babies. "After giving birth, the mother snake feels drained. So it tends to eat some of its babies for nourishment. The father does not feed on the babies. This time, the babies have been separated from their parents," Mr Pieris explained.
The proud parents of the new-born looked majestic, the father snake was on top of an artificial tree in the display cage, while the mother snake was seen cooling herself in water. The female looked twice as big as the male although they are of the same age.
"The green anaconda is originally found in South America. These two were just two months old when they were brought from the Czech Republic on June 11, 2003. The female has grown larger than the male," Mr. Pieris said.
Mr. Pieris, who has worked at the zoo for the past 30 years handling different kinds of reptiles and has been bitten by poisonous snakes including the Cobra and the Russell's viper, says that anacondas are the most shy and defenceless reptiles.
"Even when we were separating the babies from the mother, she was not aggressive and never attacked," he said.