Authorities were yesterday bracing to take in more displaced persons in the north and other parts of the country, as rains continued to lash those areas throughout the week. The number of those affected owing to floods and inclement weather was over 35,000 by yesterday, forcing authorities to establish more welfare camps to take in those displaced by the deluge.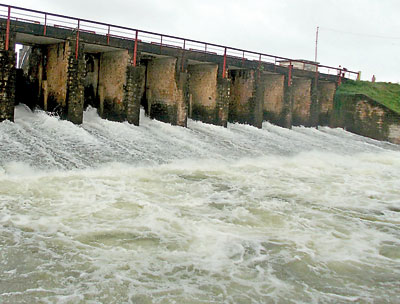 Tanks in full flow in Polonnaruwa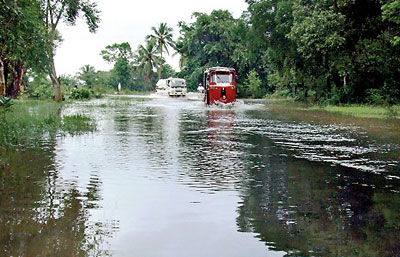 Roads inundated in Polonnaruwa
According to officials at the Disaster Management Centre (DMC) there are 35,833 affected persons, and out of this total, some 2,750 persons are presently housed at 25 makeshift welfare centers. One death has also been reported from the Mullaitivu District early Tuesday, they said. They said the worst affected areas were Kilinochchi, Mannar, Jaffna, and Mullaitivu in the northern sector of the country and Trincomalee in the northeast.
The displaced persons were receiving handouts such as dry rations and drinking water from regional authorities, they said. Authorities were also closely monitoring certain sections of the hill country, as heavy rains accompanied by strong winds were sweeping the areas of Nuwara-Eliya and Matale, they added.
They added that a landslide alert had been put out in certain areas, and steps already taken to evacuate people who are under threat. They also said that, at least, a dozen sluice gates were opened in Anuradhapura and Polonnaruwa to ease the pressure in the swollen tanks.
"This measure was necessary, as the water could overflow into low lying areas, flooding a large number of villages", one official said. Earlier in the week, flood waters prevented motorists using the Somawathie-Polonnaruwa road and the route between Mannar and Chilaw.
Meanwhile, officials of the Department of Meteorology warned of more heavy rains in the affected areas, adding that wet weather could also spread to the other areas of the island.