This is the festive season when 'stock clearance' and 'seasonal sales' entice us to buy new electrical and electronic items, to replace the old or outmoded ones. But how should we dump the old items?
As usage of electronic items grows, disposal of these also become a growing problem worldwide, and neither can Sri Lanka, escape from this new form of garbage known as Electronic Waste (E-waste), as stressed at the National Forum on E-waste Management held last Monday (19) at the BMICH. The Central Environment Authority (CEA) that operates the National E-waste Management Programme, organised this forum to find a way forward to address this growing problem of E-waste disposal in Sri Lanka, and the review of its progress.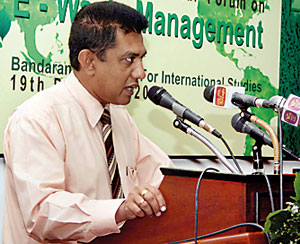 Dr. Sunil Herath
With the advent of technology, household electrical and electronic items started flooding in, in the 1980s. Electronic items such as Television, Radios, Refrigerators, Computers and even Mobile phones contain toxic pollutants such as lead, cadmium, chromium, mercury, polyvinyl chlorides (PVC) and other metallic and chemical compounds. While it is safer to operate them when they are new, these toxic chemicals can leak out over time, getting released into the atmosphere, to become serious environmental and health hazards. Long-term exposure to these substances can cause damage to the nervous system, kidneys and bones, as well as to the reproductive and endocrine systems. This has become a serious issue in industrialised countries which embraced these technologies, decades before they reached our country.
Dr. Sunil Herath of Giffith University, Australia, advisor to the UN on E-waste management in the Asia Region, making the guest lecture at this forum, said that safe management of E-waste is becoming a major problem in many countries. He revealed that the world generates around an estimated 20-50 million tons of E-waste annually, which ends up in Asian Countries.
Many regional countries impose regulations on E-waste. But, as a strategy to manage E-waste, the CEA initiated a programme facilitating the collection mechanism, prior to imposing regulations on extended producer responsibility. The National E-waste management programme of Sri Lanka was initiated last year in collaboration with 14 private sector partner companies including manufacturers, importers and brand owners of the e-waste. These companies set up collecting mechanisms, where sellers of electronic items finance the treatment of their own-branded e-waste, discarded by their customers. For example, mobile phone collection centers are set up to collect the discarded phones.
The CEA has entered into a Memorandum of Understanding (MoU) under which brand owners or manufacturers of electronic products will set up these collecting centres in Sri Lanka, and will review the progress of this programme. Addressing the gathering, CEA chairman Charitha Herath said, "I believe that these companies have already proven their environmental accountability by implementing successful programmes in E-waste management".
The CEA chairman also pointed out that, with the drastic growth of E-waste, related health issues are also on the rise, and stressed the need to raise awareness of the issue. Some parents don't even hesitate to give their discarded mobile phones for their children to play with. But, as the lifespan of these phones expire, and the protective layers come off, these gadgets become more vulnerable – so societal awareness too helps prevent the spread of E-waste damage, he said.
Known as clean mechanism to reduce power consumption, CFL bulbs (Compact fluorescent light) too are now increasing in use. But little known is that these bulbs too need to be discarded with care, as they contain a little Mercury within. They are perfectly safe when the bulb is intact. But when broken, this metal can leak, causing pollution. Hence, these should not be discarded by just throwing them into the garbage bin, which will end up in a landfill site. Though each bulb contains only small amounts of Mercury, at the landfill dumping site, these will accumulate to cause major pollution. At the forum, 'Asia Recycles', a subsidiary of Orange electric also made a presentation on their initiative to recycle CFL bulbs, by setting up South Asia's first CFL bulb recycle plant. This plant set up recently in Homagama, has the capacity to recycle 30,000,000 bulbs annually, which is nearly three times greater than the annual CFL usage in Sri Lanka.
The CEA urges the public to discard their E-waste in a responsible manner, and not become polluters. Best way to discard these electronic and electrical items is by handing them over to a collection centre. The CEA requests public to dial the government information hotline 1919, if they wish to know where the closest E-waste collection units is, to their residence or establishment.