Investigations into recent crimes, have revealed a disturbing trend of the involvement of members of the armed forces who have deserted as well as those still serving. From the killing of MP Bharatha Lakshman, grease devils who instilled fear in elderly women, to the murder of a popular doctor in Karandeniya and other killings in Udawalawe and Homagama, those who were arrested were military deserters and soldiers.
The main suspects who were arrested by Police in the shooting of former MP Bharatha Lakshman Premachandra included members of the army commando unit and another from the Special Task Force who had served in Vaharai, Mavil-Aru and Sampur.
The suspect who was taken in, in connection with the killing of two elderly women in Kahawatte was a 22 year-old army deserter who had served in Vidatheltivu area during last few months of the war. The deserter, a father-of-one has admitted to the killings that took place on April 3 and June 19 this year, according to police.
In October this year, a family of four including two children aged eight and ten, was killed in Panahakaduwa, Udawalawa. The chief suspect arrested by Police was also an army deserter.
While the main suspect behind the killing of Dr. Prasad Jayasinghe of the Karandeniya Hospital was a Captain in the army those who committed the crime included a commando and a member of the army engineer unit.
In September another army deserter was taken into custody in connection with the brutal slaying of three persons of a single family at Dolakade in Homagama. The victims included a Kapu Mahattaya from a local devale, his mistress and the woman's brother.
The same month, the bodies of an elderly couple in their 70's were found lying in their house in Akmeemana. Both had suffered heavy cut injuries. A soldier was arrested for killing the couple over a land dispute.
In April, this year a navy officer was arrested by Baduraliya Police for killing his young wife and two year-old daughter and dumping their bodies in a nearby forest. Mount Lavinia Police arrested two deserters from the Army and the Navy after they kidnapped a child and demanded a ransom of Rs. 500,000.
In October, STF's Chief Inspector B.A.Jayathilake (57) reportedly killed Assistant Superintendent of Police Sarath Sisira Kumara (45) and committed suicide in the Mahaoya STF camp. Officer Jayathilake was a father of three school-going children.
Another army deserter who was involved in an illicit affair with a wife of a wealthy businessman in Giriulla, killed the businessman in June this year. In December, a soldier hurled a hand-grenade after opening fire inside the Tissamaharama Police station critically injuring his 19 year-old wife.
Military spokesman Brigadier Nihal Hapuaarachchi told the Sunday Times that out of 60,000 deserters 55,000 were de-listed as they had no financial or logistical obligations to the army or had any criminal record.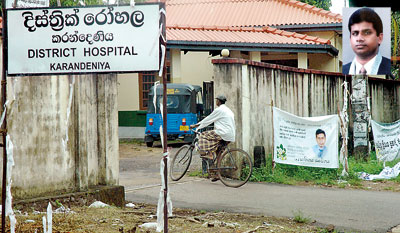 Dr. Jayasinghe (right inset) who owned a medical centre was shot dead as he stepped out of his clinic
"The police and military police have launched a search operation for about 25 ex-servicemen believed to be involved in major criminal activities, including homicide. In addition steps have been taken to arrest 440 deserters involved in minor offences," he said.
He said desertions occurred mainly due to personal reasons like family disputes. "When they go back however they find it hard to find jobs, resulting in financial hardships As they have training in handling weapons they either joined with criminals or find violence as a way of earning money," he said.Brigadier Hapuarachchi also added that combat-related psychological trauma results in frustration, depression and violence.
Although there is a psychiatric unit at the Military Hospital and Base Hospital in Panagoda, a shortage of staff including military psychiatrists, clinical psychologists, counsellors trained in trauma counselling especially understanding military culture, social workers and psychiatrist nurses have resulted in failure to properly address the problem of combat-stress related psychological illnesses.
The Sunday Times learns that there about five army personnel as in-patients both in the National Institute of Mental Health in Angoda and the Panagoda Base Hospital. A considerable number of soldiers also obtain treatment from out-patient clinics at the Military Hospital in Narahenpita and Panagoda. The Navy and Air force too have psychiatrists while in addition the Navy has started recruiting psychological counsellors and putting up counselling centres. But the deserters are out there in society, with little or no counseling or psychiatric treatment.
Consultant Psychiatrist of the Sri Lanka Army, Dr. Neil J Fernando, told the Sunday Times that although the war was over the psychological trauma of the combatants needs to be addressed. "Unlike the servicemen of World War I, World War II or the Vietnam War, Sri Lankan combatants were exposed to combat trauma for long years. Many have served 10-15 years in the operational areas and have witnessed and experienced gruesome realities. About 150,000 have been directly or indirectly exposed to traumatic combat stress," he said.
War trauma can later result in criminal activities, domestic violence, suicides, homicides, alcohol and drug abuse, cruelty to children etc, he added. Dr. Fernando said depression, and adjustment disorders are common among soldiers.
"Some are low in spirit, unable to experience pleasure, look at life in a pessimistic way, suffer from low self image and suffer from loss of self-respect and guilt. These soldiers especially those who were engaged in direct combat are prone to suicide. But if this self-aggression created by guilt is directed outwards they are capable of committing homicide and can turn violent.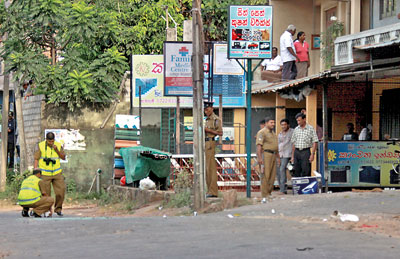 The shooting incident in Mulleriyawa that claimed the lives of Bharatha Lakshman and others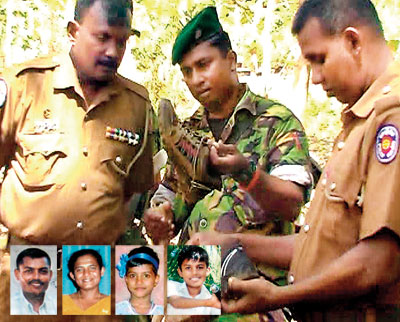 Police and army at the scene of the crime in Udawalawe and (inset) the four victims
According to Dr. Fernando the first psychological consequence of war is re-experiencing or re-living the trauma over and over again. These can come as intrusive flashbacks or as nightmares. The other consequences include avoidance behavior and hyper arousal state.
"I have treated a number of soldiers who avoid looking at meat as it reminds them of human flesh, avoid looking at their uniforms or travel in a truck and those who panic at for the sound of a fire cracker being lit or a doorbell," he said.
Dr. Fernando said soldiers who sustained brain injuries develop psychological trauma and suffer from mood changes and personality disorders. Some also suffer from Post Traumatic Stress Disorder (PTSD) where they relive the war situation, or show avoidance behavior and hyper arousal state. Those who have been prisoners of war and gone through torture usually suffer from PTSD.
"Soldiers retire early and go back to civilian life without any counselling. They find it hard to adjust to civilian life and need proper psychological support. Permanently disabled soldiers too need psychological support, "he stressed. Dr. Fernando said research showed that the most number of desertions takes place during non-combative periods.
"There should be more amnesty periods, so they can leave the army in an honourable way and find jobs instead of opting for violence," he said.