The recent torrential rain has resulted in the water level of the Menik Ganga rising. The rising water level has brought large shoals of fish closer to the shores of the river and pilgrims visiting the sacred area are seen feeding the fish.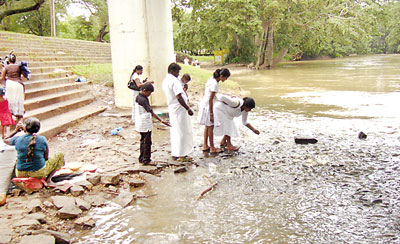 Below: Ms. Lechchami selling pori to pilgrims and above pilgrims feeding fish.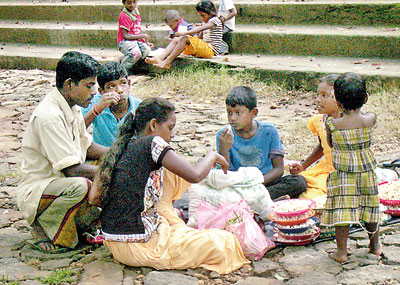 Pori -–(pop corn)-- sales which is normally bought by both children and adults visiting the sacred area have increased dramatically these days, with pilgrims now buying much larger quantities to feed the fish which are now found near the shore.
S. Vijaya Lechchami a 'pori' seller said the rising water level of the Menik Ganga has brought fish neaer to the shore than is usual and the pilgrims love feeding them. According to her when the water level is low the fish are rarely seen, she said that on a normal day she would be able to earn Rs. 300 per day at the most.
Thanks to the regular heavy downpour these days, her fortune has taken a turn for the better with pilgrims anxious to feed the fish buying much larger quantities of her ware. She added she normally bought fried pori from Debarawewa in Tissamaharama for Rs. 300 a kg, while the raw pori cost Rs. 180 a kg.
Thanks to the fish coming nearer to the shore she said that these days she was able to sell around 10 kg of pori a day and her daily income income had increased to between Rs. 1,000 to Rs. 1,500 per day.