The Sri Lankan and Indian Joint Working Committee on Fisheries will meet in Colombo on January 13 and 14, Fisheries and Aquatic Resources Minister Rajitha Senaratne said.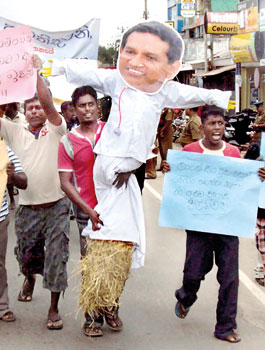 Fishermen in Chilaw carry an effigy of the Fisheries and Aquatic Resources Minister as they protest over excessive taxes and the high cost of equipment. Photo: Augustine Fernando
Sri Lanka will be represented in the Joint Working Committee by officials of the External Affairs Ministry, the Defence Ministry, the Fisheries Ministry, the Sri Lanka Navy and the Director General of the Coast Guard.
The Indian delegation too will comprise representatives from parallel institutions in India.
Minister Senaratne said they would insist on the principles found in the Indian Ocean Tuna Commission (IOTC) and the UN Law of the Sea Treaty that no vessel can trespass on or cross over another country's maritime border without permission.
"When our fishermen's vessels stray into the territorial waters of India, they are produced in courts. The Indian fishermen come here in thousands but they are not produced here in courts so there are no records that they have done anything illegal. In the IOTC and UN there is a category known as Illegal Unreported and Unregulated (IUU) Fishing. We have to show, that we act against Indian fishermen under the FAO's plan of action against IUU fishing," he said.
"It is a matter to be settled by the two countries. India is a very friendly country which is helping us. Who helped us during the war and is helping us now with the problem that we face with the West? Earlier only the Tamil Nadu fisheries officials came here, but this time India is sending officials from Andhra Pradesh and Orissa along with central government officials," he said.
"With the very good understanding we have with India, we will settle this issue," he added.