The Haggala Botanical gardens which attracts thousands of visitors who come to Nuwara Eliya on vacation, marks its 150th anniversary this year.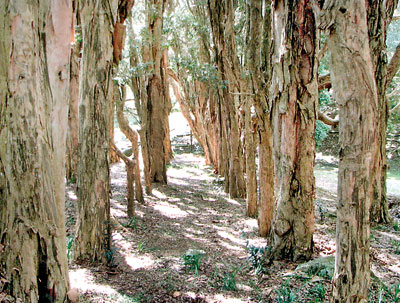 Some of the trees at Haggala are over 100 years old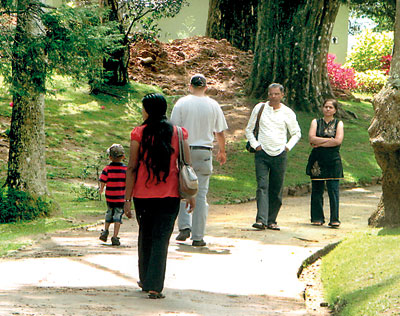 The summer house against a scenic backdrop and visitors to the park
The character of King Ravana is part of our ancient history and the salubrious Nuwara Eliya region is replete with stories about his escapades. Some identify him as an efficient physician king whose medicinal garden was close to Haggala.
He is reputed to have cured Seetha his bride at Seetha Eliya, where she was administered with medicine for her malady. This garden became a Botanical garden in 1861, after many centuries.
The second botanical garden to be established by the British, Haggala Gardens spans over 500 acres. It is located 2,173 metres above sea level, 9 km from Nuwara Eliya, on the Nuwara Eliya-Badulla highway.
When malaria struck Ceylon, Cinchona succirubra, a medicinal plant to fight the disease, was grown in Haggala in 1861 after it was grown in 1859 at Peradeniya gardens.
Haggala receives around 2,200 mm of rain for over 200 days while its mean temperature varies from 3-15 celsius.
Today the area is only 88 acres, and the tea plantations surrounding it were earlier coffee plantations.
Some trees here are 100-200 ft tall. There is an area replete with 'Lothsumbul' (Melaleuca Leucadendron) grown in 1883.
In addtion to an area where Cinnamomum camphora has been grown, monkeys known as Bear monkeys are unique to the area.
The park is situated in the midst of wild jungle. The nursery which is over 100 years old has over 1,000 varieties of plants. The view from this garden is breathtaking, and there are monuments in memory of devoted officials and staff whose tireless efforts and commitment made this garden a place worth visiting.
There are about 4000 indigenous plants and over 3000 that are of foreign origin. Since 1860, there have been 19 superintendents who were responsible for overseeing the garden. The present Director General- National Botanical Gardens D.S.A. Wijesundera was previously in charge of it from 1984 to 1989. After the end of the three-decade-old war, there has been an increase in visitors. This year there were 460,000 visitors as at end November. The Garden however lacks proper acccess roads and toilet facilities.