Four subsidiaries of Laugfs Holdings Limited (Laugfs) are slated to raise some Rs. 2.5 billion through a public share issue by next month which will see them securing strategic investments in energy and leisure sectors together with regional expansions, according to officials.
"We're launching a separate holding company which will see three energy and one leisure sector firms as subsidiaries. This holding company will go in for an Initial Public Offering (IPO)," W.K.H. Wegapitiya, Chairman Laugfs told the Business Times saying that relevant applications are now being processed.
He said that Laugfs has had discussions with some prospective partners in the energy sector in India, Pakistan and Bangladesh. "We're trying to acquire some regional LPG (Liquid Petroleum Gas) operators," he said.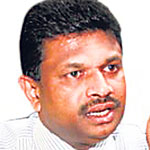 W.K.H. Wegapitiya
He said Laugfs has grown into some 18 firms in diversified sectors within the last 15 years since it started and the management feels that 'now' is the time to go public. "With the current economic boom, the political stability and the tapering of the global recession it's time to go public."
He said the company, which already has two hotel properties in Induruwa is bullish on the tourism sector and will start construction on a 150-room resort hotel in Chilaw. "We will set up a hotel in the Southern coastal belt and is also looking to acquire some hotels in the South as well," he said, adding that Laugfs is also studying the East for similar projects.
He declined to mention the stake that Laugfs would offer the public, but the Business Times learns its 25%. Sources said that the Rs 2.5 raised will fund energy and leisure sector expansions/ acquisitions.
Laugfs plans to discuss with the government to expand their storage capacity through its subsidiary, Laugfs Terminals Ltd. "We will discuss with the government to set this facility up at the Hambanthota Port," Mr. Wegapitiya said, adding that Laughs has plans to build its own lubricant blending plant through Laugfs Lubricants Ltd at the Hambanthota Port as well. He said Laugfs also plans to export lubricants to Maldives and Bangladesh. "In order to help with our logistics, we plan to acquire about two ships from Japan and will use them as floating storage facility," he added.
Mr. Wegapitiya said that the company, through yet another subsidiary, Laugfs Salt and Chemicals Ltd will strike a joint venture with a foreign partner soon to start a Chlora Alchide Chemical plant in a 2,500 acre extent in Mannar which will produce salt. He said the company's retailing sector and restaurants are also posting profits.
Laugfs is also bullish about the property sector. Mr. Wegapitiya said Laugfs' 45 apartment complex in Maya Avenue will be converted to a 100 room city hotel through Laugfs Property Developers Ltd by December, while plans are on to set up two hydro power projects in Balangoda. He said that Laugfs is the only local LPG downstream player in the country with 60% share in the LPG industrial bulk market, 90% share in auto gas and 40% in the domestic LPG market.