Warranties that apply to personal computers (PCs) are the biggest problem faced by Sri Lankan buyers today, according to Network Communications Chief Operating Officer Larry Adams, As such, he guaranteed the new Suzuki-branded netbooks and laptops launched by his company recently, and already available in stores, will be swapped out in two to three days time should a problem occur.
This will also apply over the entire duration of Suzuki's one-year warranty period. He also said that this was in contrast to the actions of others taking as much as two weeks, or even a month, to fix problems which had emerged during the warranty period.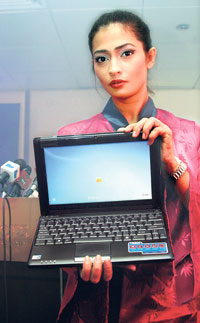 At the launch
Launched in Sri Lanka with fully loaded (card reader, webcam, etc.) netbook and laptop models, which are also available in a number of colours; Suzuki-branded computers currently include the Intel Atom processor-based netbook range, at Rs. 37,000 upwards, as well as the Intel Core 3i processor laptop range, priced at Rs. 59,900 upwards. Both of which company representatives say are the most inexpensive branded products in their segment in the local market. Additionally, according to Mr. Adams, prices of PCs are expected to fall even further; as evidenced by the prices of desktops, which have already decreased.
Further, according to Andy Ng, the Sales Manager for Singapore-headquartered Suzuki Technologies; Sri Lanka was chosen as the company's second foray (Nepal was the first) in South Asia because of its status as a gateway for expanding into neighbouring contries such as India. He also noted that the next step for the local market was the launch of a Suzuki concept store and after sales service centre in Colombo in three to four months. Meanwhile, according to Network Communications' Product Manager for Suzuki, Damitha Hagoda, Suzuki's biggest threat in the local market would be the current dominance of Taiwanese manufactured Acer. This is in contrast to the overall Asian market where Suzuki's stiffest competition is China-based Lenovo and USA's Dell. However, he indicated that he is confident that the brand would achieve a 20% market share in its niche by the year's end. He also revealed that 100 units had already sold within the last month. Additionally, according to Mr. Adams, Suzuki is also close to having its island-wide distribution up and running with 150+ dealers already having been appointed and now just needing to be trained on the product to be ready.
Further, Mr. Hagoda also indicated that target markets for Suzuki were currently school-going ages, this is due to only Intel Atom and Intel Core 3i processor portables being available currently. However, this group would soon expand to include business clientele as new shipments of Core 5i products start to arrive before long. He also noted that a key feature of the Suzuki range of portable computers was its high definition LED display which showed a greater range of colours, where black appears as black instead of dark gray. This is a problem with the more commonplace LCD displays available today.
He also revealed that Network Communications had attained its current status as a high market shareholder in the computer and accessories market due to an ongoing relationship with the recently listed PC House, a company which distributes Network Communications' own Ultrasonic branded computer range.