While numbers are vital to the tourism industry, they cannot override the importance of ensuring that Sri Lanka remains a sustainable and resilient tourist destination in Asia….
Picture shows a "Home stay" facility in Mai Chau Village in North Western Vietnam.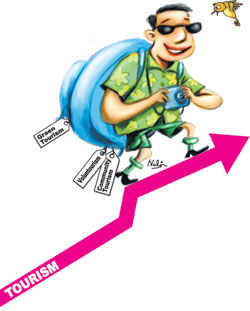 The recently publicized Vision 2016 targets 50,000 hotel rooms to accommodate 2.5 million tourists in the country by 2016 with expected revenue of $1 billion. Behind these figures remain a number of questions that require urgent answers. Had these figure emerged from the 10 year Master Plan for Tourism currently being developed, a rationalization would have been provided justifying these numbers and explaining how the numbers would be generated. Instead, as a result of the figures being publicized it would now seem that the Master Plan has to be designed to justify these numbers. Sri Lanka currently has 15,000 hotel rooms available for guests.
To add 35,000 hotel rooms by the end of 2015, or in less than five years is no mean feat. Suitable locations, massive capital investments, multitude of approvals from numerous agencies, environmental impact assessments, the required infra-structure at these places including roads, water, electricity, garbage management etc. etc., remains to be successfully addressed. Furthermore the resultant environmental degradation resulting from such fast-paced growth cannot be ignored in the name of economic development especially in an age when global tourism is adopting a cohesive green approach.
The target of 2.5 million tourists in one year is not over-ambitious for Sri Lanka, once infrastructure is in place to sustain these visitor numbers without adversely affecting the country's environment or creating too great a burden on its natural resources. Destinations comparatively smaller than Sri Lanka have managed to get even bigger tourist numbers, but development was sustained and staggered over a longer period that allowed enough time and space to address issues that surfaced. Singapore though 91 times smaller than Sri Lanka entertained 9.7 million tourists in 2009 and Bali being 11.5 times smaller had 2.2 million visitors. Land mass therefore is only one aspect of what kind of visitor numbers a country can sustain and every destination has an unique set of characteristics, and different environmental concerns.
Community Tourism
Tourism as a national industry should produce benefits to its society both directly and indirectly. Tourism models in certain destinations, for instance in Indochina that began promoting tourism much later than Sri Lanka, successfully derive benefits to local communities directly through the highly popular 'Home-stay' concept. This should not be confused with letting out a vacant room or two of a Colombo residence or elsewhere with attached baths and luxuries. These are family run facilities that provide clean common accommodation such as sleeping on wooden decks with basic amenities and meals at attractive prices to visitors who enjoy the change whilst experiencing community life style in its true form.
For the visitor it is a great value for the price paid and for the villager who provides the service, it is good income! The 'Home-stay' concept could be a viable alternative and a strong contributor towards achieving the targeted numbers to meet the goals stipulated by the government by 2016 with far less efforts, while allowing the benefit of growing tourist numbers to directly contribute to the income of local communities. Since foreign visitors seek out 'home-stay' options in order to sample authentic rural life in a country, this type of tourism experience will also help to safeguard the village way of life, since maintaining the status quo has a direct bearing on bringing in foreign visitors.
Voluntourism or Volunteer Tourism is travel which includes volunteering for a charitable cause. This can be a worthy facet of community tourism. Whilst some volunteers may spend all their holidays doing community service others may spend part of it for such purposes and use the balance time for regular holidaying. South East Asia, especially countries of the Indochina region receives a considerable number of tourists in this segment and numbers continue to grow annually. Poor, deserving communities gain many benefits from such volunteer groups. For some groups, it has become an annual practice to visit a country and make their contributions in this manner.
Sri Lanka, the Green Destination– In the promotion of Green Tourism, Sustainable tourism, Guilt free travel etc. singularly or collectively what they mean, Sri Lanka made some trend setting initiatives ahead of many other destinations in this sphere. Such efforts should not be one-off and short lived and fade away when the person or persons who initiated these concepts retire from the organization, but continue with new leaders to produce desired effects. More impetus towards carbon neutrality, nation-wide awareness on Climate change, cleaner and greener surroundings will remain a talking point of visitors whose word of mouth advertising can go a long way in travel decisions to a destination and Sri Lanka should not withdraw from the good practices it started.
Emphasis by way of more awards and rewards to the industry for greener practices and inclusions in hotel classifications by way of additional points could encourage the industry in this regard.
(Kumar is a former President of Ceylon Hotel School Graduate's Association and Kandy Hotelier's Association and has led many CSR initiatives in Community Tourism, Climate Change and Youth Employment that won international awards. He could be reached at kumarsenaratne@gmail.com).