IInformation Communication Technology (ICT) terms have now been localized to enable Sri Lankans to use ICT in local languages such as Sinhala and Tamil. Gihan Dias, Professor, Dept of Computer Science and Engineering, University of Moratuwa, and Domain Registrar/CEO, LK Domain Registry said that they have been working over a period of over 10 years to achieve this objective of creating the infrastructure to enable people who are not experts in English to connect with the modern world according to their aptitude and benefit from the latest technology.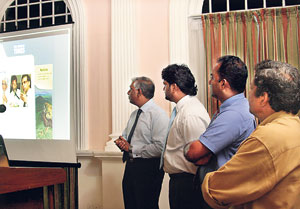 All terms associated with computer operating systems, web browsers and search engines are now being translated to local languages to work in Sinhala or Tamil. Addressing the re-launch of the Sunday Times Business Club (STBC) website in Colombo on Tuesday at the Taj Samudra, Prof. Dias emphasized the need of maintaining web sites of businesses and organisations in all three languages to capture a wider audience, to promote its products and services.
Speaking to Business Times on the side lines of the STBC web site re-launch ceremony, Prof. Dias said "We want to increase awareness about quality Sri Lankan websites. Also, we want to show that besides English, there are also many websites available in Sinhala and Tamil. We are organising a .Lk domain website competition where awards will be given to websites in all three languages".
In last year's competition around 10.000 persons voted for the nominated websites, and this will increase to 100.000 votes this year with approximately 500,000 Lankans who use Internet on a regular basis. It means that one in five people have to cast their votes on which Sri Lankan website they like the most," he said.
Apart from the awards for the Best Websites, a team of judges will award websites in nine different categories ranging from 'Best Entertainment Website' to 'Best E-commerce Website'. The judges will review the user friendliness, the graphic design and the usefulness of the websites.
The competition is in the first phase, where people can nominate websites on www.bestweb.lk. From September 23 till October 20, Internet users can vote for their favourite website. The winners will be announced on October 21. The winners of the virtual reality competition will receive their awards at a gala awards show, which is to be held in November.
Over 8000 names including hundreds of state institutions have been registered so far in the .LK Domain. Meanwhile STBC has come a long way since its inception more than 14 years ago and now has developed a web site for the benefit of members.
Many of these details were also given by Prof. Dias to STBC members encouraging them to apply. At the event, the club also recognised the services and contribution rendered by its corporate supporters – Taj Samudra as the host hotel and Hameedia as a long-standing co-sponsor.