Sri Lankan agencies celebrated the wedding of Prince William and Kate Middleton on Friday being part of 'High Tea' organised by the London Hilton to mark the event. According to a statement, the theme and menu at this event was inspired by the cornflower blue of the Ceylon Sapphire, which adorned the ring finger of both princesses, Diana and Kate.
As part of an ongoing campaign for the Ceylon Sapphire, Grant Mccann as the creative agency, organized an opening for the Sri Lanka Gem and Jewellery Association (SLGJA) to be part of the celebrations to raise the profile and create awareness of this rare and valuable gem among a high net-worth clientele. The London Hilton which plays host to the rich and famous including young Royals, Princes William and Harry on a number of occasions was in the heart of the wedding route.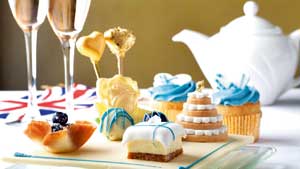 Pic shows the table display at the London Hilton prior to the event.
At the event, interesting snippets of information about the history of the Ceylon Sapphire, were provided by the Sri Lanka Gem and Jewellery Association replicated from the Ceylon Sapphire website and placed on each table for the guests to read. Another unique feature of this event was the beautiful Ceylon Sapphire pendant that the Sri Lanka Gem and Jewellery Association gifted to a lucky winner at the High Tea; for which the winner was selected through a business card draw.
Prior to the event, the Export Development Board in association with the SLGJA wanted to highlight the Royal Family's deep and longstanding connection to the Ceylon Sapphire over many generations. An innovative and informative online campaign was created by Grant McCann on behalf of the SLGJA to highlight the Ceylon Sapphire brand in key markets, most significantly in the UK. Targeting 250 UK and international media that were covering the Royal Wedding, an innovate 'press gift': a unique silver gem studded teaspoon with a URL www.ceylonsapphire.co.uk engraved into the handle was sent out to key journalists, the statement issued by Grant McCann said.