The Ministry of Higher Education recently signed an agreement with Mobitel to use Mobitel's mLearning as 'the National Higher Education Learning Platform through the National Online Distance Education Service (NODES).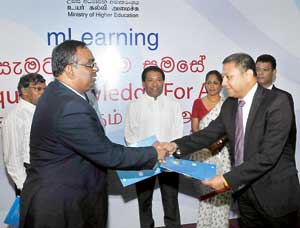 Picture shows Dr. Sunil Jayantha Navarathne, Secretary to the Ministry of Higher Education and Suren J. Amarasekera CEO of Sri Lanka Telecom Mobitel exchanging the agreement in the presence of Minister S. B. Dissanayake, Ms. Anoma Laphir, Director - SLT Mobitel, Wijesiri Ambawatta - Director SLT Mobitel and Dr. S.T Nandasara, Director -NODES.
The deal is part of a Ministry initiative aimed at reducing regional disparities between disseminating higher education throughout the country.
A Mobitel press release said traditional learning environments mixed with cutting edge technology is what provides mLearning the lead when it comes to supporting education. It is an exclusive purpose-built globally accessible content delivery and learning platform conceived, designed and deployed by Mobitel, where the uniqueness lies in the fact that it provides an extensible collaborative learning environment where tailor-made educational environments can be built to provide wide-ranging learning management solutions.
The educational tool comprises of a wide range of applications. It combines the most productive elements of current e-learning applications with multiple user interactive video conferencing features, slides, virtual smart boards, material upload facilities, content management facilities and also SMS, email and offline messaging. Furthermore, Virtual classroom settings add a one hundred percent interactive element to the learning experience.
Addressing the gathering, Minister of Higher Education S.B. Dissanayake pointed out that through mLearning now higher education is equally accessible to a student in Colombo as well as a student in Jaffna or Hambantota. This initiative will enhance the facilities available with us at NODES to further step to create more accessible centres throughout the island.
"They no longer have to travel all the way to Colombo to follow courses, diplomas and degrees, and advancements in technology should be used to improve equal access to education to all, across the country. mLearning will take us one step ahead to the future, to experience revolutionary and groundbreaking methods of learning, appropriate for all those who are constrained to learn through accessibility, time and money," he said.
Mobitel first trialed this innovative platform by facilitating the Faculty of Graduate Studies, University of Colombo, Sri Lanka to deliver its Executive Diploma in Marketing(EDM) via mLearning. Following the success of the trial with the Faculty of Graduate Studies, the mLearning platform was extended to four more faculties of the University of Colombo to offer several other programmes.
Suren J Amarasekera, CEO, Sri Lanka Telecom Mobitel said that 'this initiative is directly in line with Mobitel's company vision to lead Sri Lanka into an Info-com and Knowledge rich society and we are much excited by the role we have been chosen to play for the further development of education at the National level.'