CHINA -- Children are indeed the precious wealth of all parents. Parents untiringly devote their time and energy to bestow them with all wealth and treasure. It is a fact that parents succeed in providing their children a primary and secondary education at their village or city schools without much problem.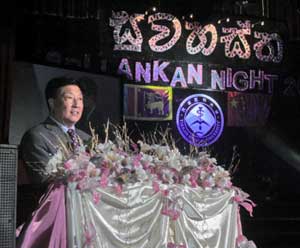 Prof. Feng - Lin Guo speaking at the Sri Lankan 'night' at the campus.
However it is thereafter that they face enormous difficulties and challenges in providing a higher education for them. This is because all students who manage to qualify for university admission do not get the opportunity to enter universities in Sri Lanka. Only a small fraction of them get this chance because Sri Lanka's university system does not have the required funds or infrastructure to accommodate large numbers.
Bringing some relief for worried Sri Lankan parents whose children fail to enter medical faculties in local universities not because of their fault but because of the limited available state university placements, the Tianjin Medical University of China in association with Sino Lanka Educations Institute, has stepped in to set up a Chinese International Medical University in the island to meet this growing need.
This will also pave the way for students in SAARC countries to study medicine along with their Sri Lankan brothers and sisters. Tianjin Medical University is now in preliminary talks with Sri Lankan authorities to set up this university in the suburbs of Colombo as a symbol of friendship between the two countries and to provide an opportunity for students who have completed their secondary education in local or international schools as well as foreign students who intend studying medicine.
This was revealed by Professor Feng-Lin Guo, Director of International Exchange Department and Dean of the International Medical School in Tianjin, in an interview with the Business Times on Monday. He said that they have not finalized the exact location of the university. Discussions are underway with the Sri Lanka Higher Education Ministry with regard to the establishment of the university. They will also seek the approval of the Sri Lanka Medical Council (SLMC) which is responsible for awarding professional medical qualifications in Sri Lanka. He revealed that students who will be admitted to this university will have to study three years in Sri Lanka and two years in China to complete their medical degree.
Professor Lin Guo noted that Tianjin University is very popular among Sri Lanka students and around 500 students currently study at the medical faculty in China.
Educational qualifications and high discipline are essential requisites for admission to this university. The academic staff is very particular about the attendance of students for lectures as well as their discipline and a progress report of students will be sent by registered post to their parents living all over the world, he said. He added that two students of Tianjin Medical University came first and second in the world for their excellence in studies in medicine and this shows the quality of education at the university. He expressed the belief that the proposed university would also provide an alternative to GCE Advanced level qualified school leavers who miss university admission in medicine, and could pave the way for many Sri Lankans to become doctors to serve the country's health sector.
The first stimulation hospital in China was opened recently at the university premises and it is a great asset for medical students. They will be given an opportunity to undergo clinical training from the second semester of the 3rd year to 5th year at this hospital affiliated to seven hospitals, he said. Apart from that the university has given 80 % of its scholarships to Sri Lankan students this year, he said adding that the discipline and educational standard of Sri Lankan students are at a very high level. The university has also increased its number of scholarships granted for students with 44 Sri Lankan students receiving scholarships this year. They receive scholarship money amounting to of Rs.24,000 per month while they need only Rs. 6,000 or Rs.7,000 per month for their food, he noted.
When contacted, a senior official of the Sri Lanka Higher Education Ministry said that the government's vision is to build Sri Lanka as an 'Education Hub in Asia' and this venture will be a major initiative towards this end. While developing its existing higher education system, the ministry has taken steps to invite leading universities from the UK, US, Australia, India, China and many other countries to set up campuses in Sri Lanka. The proposed Quality Assurance and Accreditation Council will regulate both public and private higher education providers in the future. With these new opportunities, Sri Lankan students will have an increased number of seats and a wider selection of higher education options. Furthermore, this will also attract students from other countries in the region bringing foreign revenue to Sri Lanka, he added.
Sri Lanka's Higher Education Ministry has forwarded the relevant legislation to set up foreign private universities to the Cabinet for approval. Once approved by the Cabinet of Ministers the relevant Act is to be presented to parliament for approval. The legislation will include the qualifications framework, standards protection and other related areas in order to establish an international university in the country. Plans have already been submitted to establish five international universities in Sri Lanka, he revealed.
Currently eight Sri Lankan universities have medical faculties -- Colombo, Sri Jayawardanepura, Jaffna, Galle, Peradeniya, Kelaniya, Batticaloa and Rajarata. The output of all medical schools is around 1200 and they receive the degree MBBS (Bachelor of Medicine and Bachelor of Surgery) . The training period is around five years plus a residency period (Internship) of one year for full registration as a doctor in the SLMC. However, since the intake into government free medical faculties are very limited, a large number of students go abroad to get a medical degree from a foreign university. Sri Lankan students study medicine at countries such as Russia, India, China, Nepal, Bangladesh, Pakistan and Latvia. Some also follow medicine in developed countries such as USA, England, Australia and New Zealand where the tuition fees are relatively high.
The Tianjin Medical University founded in 1951 was the first medical institution approved by the State Council of the People's Republic of China. It was one of the first universities in China to be recognized by the World Health Organization and is recognised by the SLMC.
W.D .Samantha of the Sino Lanka Educations institute said that his institute closely looks after the needs of Sri Lankan students. The Tianjin Medical University has provided insurance facilities for all students free of charge.