Sri Lanka's Amana Bank has signed a Technical Advisory Service Agreement with its strategic partner Bank Islam Malaysia Berhad, the pioneer Islamic financial service provider in Malaysia, in Kuala Lumpur recently.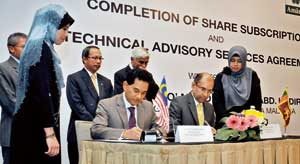 The signing ceremony in progress.
At the event, Bank Islam was also presented with its share certificate confirming its 20% stake in Amana Bank, the Sri Lankan pioneer in Islamic Banking. Amana Bank said in a press release that under the Technical Advisory Service Agreement, Bank Islam will play a significant role in transferring Islamic banking expertise to Amana.
Speaking at the ceremony, Bank Islam's Managing Director Datuk Seri Zukri Samat said " this business venture was Bank Islam's maiden overseas banking venture in line with our regional expansion plan." He further added that "Sri Lanka was chosen not only to capitalize on our existing presence and familiarity with the business environment, but more importantly due to its favourable economic prospects and tremendous untapped potential of its promising Islamic financial service industry."
Amana Bank Managing Director Faizal Salieh commented on Bank Islam's continued support and commitment to establish Sri Lanka's first licensed commercial bank to operate under the principles of Islamic Banking. He said "Malaysia stands out as an icon in the world of Islamic Banking. I see today's event here in KL as a significant milestone in the area of Islamic Banking cooperation between our two countries."
The signing ceremony was attended by Bank Islam Chairman Datuk Zamani Abdul Ghani, Bank Negara (Central Bank of Malaysia) Assistant Governor Bakarudin Ishak and the Sri Lankan High Commissioner in Malaysia Dr. D.D. Ranasinghe.
Both Bank Islam's Managing Director Datuk Seri Zukri Samat and Chief Operating Officer – Business Support Jaafar Bin Abu have been appointed as directors of Amana Bank. In addition Bank Islam's AGM and Head of Sharia Division Mohd Nazri bin Chik is also sitting in the Independent Sharia Supervisory Council of Amana Bank.