Sri Lanka is seeing the fastest penetration of smart phones, which is growing across the world, as against other regional markets, global telecommunication officials said. With 3G being available for a long time in Sri Lanka customers here know how to get the best of their smart phones.
At present estimates the Nokia E7 should achieve sales figures of around 200 to 300 per month according to current requirements, Nokia Communications Manager Rahath Ahmed for Bangladesh, Nepal and Sri Lanka told the Business Times after the launch of the product in Colombo this week.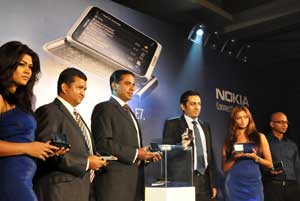 At the launch. Pic by Mangala Weerasekera
The Nokia E7 comes with several new features which has put it ahead of its field among its contemporaries. Designed for corporate users, the Nokia E7 provides direct, secure and real-time access to the Microsoft Exchange server with Mail for Exchange for connection to the corporate inbox, calendar, contacts, tasks and the corporate directory.
Enterprises can make considerable savings by moving their mobile messaging infrastructure from a middleware-based solution to a direct access solution that eliminates unnecessary administration, licensing and maintenance costs. Other features like Office Communicator Mobile, developed by Microsoft for Nokia Smartphones, brings corporate instant messaging to the Nokia E7, he said.
The Nokia E7 has further enhanced features that enable access to up to 10 private email accounts from the same view, create, edit and share office docs and view PDF files with Adobe Reader, fast, secure intranet access with the built-in VPN, high-resolution photos and HD video with the 8 megapixel camera and dual LED flash, HDMI connectivity to project files, videos and images onto large screens, 16 gigabytes of on-board flash memory and USB-On-The-Go, enabling easy file sharing by connecting a USB stick to the smart phone.
Nokia Sales and Business Development Manager, Sri Lanka - Shiblee Shakik Ahmed said that nowadays many people want more from their smart phones, and this is why Nokia has come out with the E7 which 'we' feel fills the needs of most users in this segment.
"At Nokia we develop a product to give maximum benefit. We have also periodically come out with models that keeps us ahead in the field. We have seen the market share increase in Sri Lanka of Nokia phones. There are also other models that we hope to launch by the end of June this year. These will feature phones with dual sims and several other enhanced features," he added.