Toys are the most valued possessions of a child. Toys are meant to transport any child into a magically different, better world. According to researchers, it's important to let children run their imagination wild and in that toys play a significant role.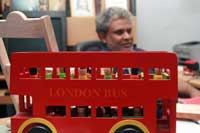 In the subject of toys made of wood, many agree that they are not only fun but they instigate good values in the innocent minds as well giving them the chance to explore beyond the tech savvy gadgets. Not only do they last forever but they can run through the rough play of a child.
This was the main inspiration for the VanCuylenburg family to enter into the wooden toy business some three decades ago. Their factory at Batakattara village in Piliyandala was literally bursting with colours and characters when we entered and it was easy to see why Luan VanCuylenburg and his wife, Shalini gave up a lucrative career in banking at a leading bank to get into their passion – which is manufacturing children's wooden toys.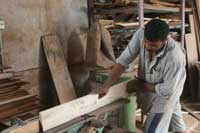 This proved to be their thing, which can also be seen at their enchanting and magical toy shop in Bambalapitya, and they were soon exporting many items while expanding their operations. As the business evolved, the duo decided to go local and set up Wood 4 Kidz, a company catering to the domestic clientele some four months ago.
"We started catering to the local clientele two years ago and also thereby streamlined our operations," Luan said, explaining that there's a US$8 million market for wooden toy exports and that the local market is also growing fast.
Pointing to a handcrafted red wooden bus, he added that toys that have been created out of wood are appropriate for any child and many childcare providers and day cares usually like wooden toys for their children. "These toys will produce hours and hours of imagination and adventures for children. As far as what to make you are only limited by your imagination," Luan noted, showing a colourful educational wooden puzzle on a worktable at his factory.
Luan added that practically anything can be made out of wood, whether it's a train, plane, or automobile and for centuries they have made the perfect toy. "There are some classic wooden toys that every child should have. You can even make wooden puzzles cut into jigsaw shapes," he said. Luan said that colourful, well designed, sturdy handcrafted wooden toys with smooth surfaces for safety, built to last for generations is this company's specialty.
He added that there are numerous wooden toys which promote learning. Toys for learning are meant to encompass the social, intellectual, emotional, and physical growth of a child. An infant might first play with a chew toy or a rattle. This experience begins to develop their motor-skills and sensory levels.
According to Shalini, colour and shape recognition, spatial relationship awareness, hand-eye coordination, and other 'motor' skills are exercised through playing with educational toys that were made specifically to enhance those skills. There are also kids' toys that enhance the kids' imagination and creativity. Some toys even teach them patience (think floor puzzles) and reinforce the concept of hygiene (think bath and tub toys).
Shalini points out that the wooden toys they manufacture also put 'more fun into a child's learning'. "All parents want such items. This is mainly because these don't force children to learn," Shalini said, picking up a counting rack.
It's easy to see why this husband and wife duo is so passionate about their business. The little Winnie the Poohs, Barney Rubble, Felix the Cat, Chester Cheetah, is only some who spring out of the work tables. "These characters made out of wooden toys always bring joy to their hearts. And we try to add many derails into a toy," Shalini noted. According to her, the value of the toys and games becomes very apparent when you notice the child's comprehension in relating to the play concept. She said that their operation has 10 employees while also supporting many families by outsourcing certain woodcutting, painting, etc.
"We encourage these as cottage industries where the women while attending to their daily chores can also earn some money," she added.
Luan noted that by far one of the easiest wooden toys is just wooden blocks in different shapes. "Then (we) paint them in bright colors and you have a toy. Then as they (children) get older they can learn the colours by playing with the wooden blocks you gave them. And if you paint numbers on them they can learn that as well," he added. He said that the company's main markets are UK, Netherlands and also Australia. He said that this year they want to go to India, but the challenges are that their designs are copied liberally.
The company also has started a new business line which is turning out children's furniture. "This too is popular locally," he added.