US GSP benefits for Sri Lanka and many other countries which were suspended in January is still under review, a visiting US trade official said on Tuesday. During a meeting with Minister of Industry and Commerce Rishad Bathiudeen, Asst. US Trade Representative for Central & South Asia - Michael Delaney said no change could be expected on Sri Lanka's GSP status in the immediate future.
However, he said: "The GSP review is also much dependent on the US Senate's Finance Committee and if permitted after their review, even benefits Sri Lanka lost during suspension could be paid back on a retroactive basis."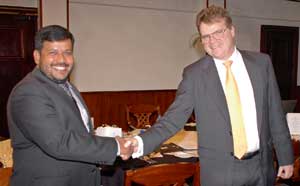 Greeting each other: The Minister and Mr. Michael Delaney
The US Generalized System of Preferences (GSP) programme which applies to exports from about 130 countries including Sri Lanka expired on December 31, 2010 and raised some concerns in Colombo but industry sources here said at the time that the programme is likely to be approved or authorized by the new US Congress in the next few months.
"I am happy that US companies have shown greater interest in partnership with Sri Lankan private sector after the US - Sri Lanka business forum held in October 2010. This was evident when the high level delegation of top US companies visited Sri Lanka in the latter part of March this year," said Minister Bathiudeen in a statement issued by his Ministry on the meeting.
In latter part of March, a high level US business delegation comprising over a dozen US companies visited Sri Lanka. Among them were representatives from Boeing, Caterpillar, John Deer, AGL Partners, Venture Global, AECOM, Program Rail Service EMD, Burson Marsteller, Coca Cola and ASBI Corporation. The companies were exploring opportunities for investments and businesses in infrastructure sectors such as air transportation, roads, railway, as well as IT, renewable energy, communication, real estate.
Also taking part in the discussions were Tilak Collure (Secretary-Industry and Commerce) and Bandula Somasiri (Acting Director General, Department of Commerce of Sri Lanka).
Meanwhile the US Trade Department continues with its public probe on claims by trade unions that worker rights are being violated in Sri Lanka and the latter are urging that any future GSP programmes should be conditional to the rights of workers being ensured.