It is now accepted that the turning point and progress in the economy of a country is knowledge-based application of technology which would be the results of the hard work of intellectuals, such as academia, engineers, technologists and scientists whereresearch leads to technology. Thus the development of the economy for the best or worst depends on how the country treats its intellectuals- the end result of the knowledge economy (KE).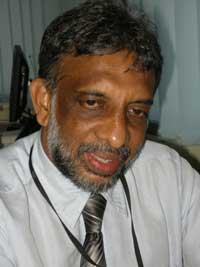 Dr. Azeez Mubarak
Essentially KE centres impart knowledge and this has to be done by knowledgeable people – the intellectuals and their services have to be adequately rewarded, acknowledged, appreciated and recognized, but none is happening in Sri Lanka, where everything is dependent on senseless political vision.
Looking after intellectuals in Sri Lanka is confined to lip service where knowledgeable people/intellectuals are classed as ordinary professionals.
Over the years after independence, while intellectuals became an ordinary class political domination took precedence to the extent that people identifying politicians as tyrants. Economic development and progress said to have achieved through high-thinking programmes of successive governments have not trickled down to the large masses of people, clearly indicated through high cost of living and still, difficult conditions.
Seats of learning - the universities - are the knowledge base in the country, but today universities in Sri Lanka appear to be in utter disarray as university dons are poorly paid and their work is not that recognized. This base is cracking to the extent that, as reported, a large number of intellectuals are leaving the country creating a knowledge vacuum in the base itself.
Discussing these issues, Dr Azeez Mubarak, Director/CEO, Industrial Technology Institute (ITI) in an interview with the Business Times stressed the importance of adequately remunerating the cream of intellectuals in the country who make exceptional contributions with innovations that helps the country's development and to recognize their talents and achievements to be rewarded and appreciative of. He said that the normal pay of an intellectual averaged around Rs 25,000 with few other perks and wondered whether it is sufficient.
ITI is the mainstay of the country's knowledge-based institutes that leads research-based technological innovations and though it works silently (and has not been adequately rewarded in its achievements to the public), has so far made tremendous achievements and innovations, most of which has been turned into commercially viable products and also enhanced the lifestyle of the people.
ITI has a rich history, being set up in 1955 on a World Bank recommendation and named as the "Ceylon Institute for Scientific and Industrial Research (CISIR)" to help industries with an initial budget of Rs 5 million for five years with the understanding that technology makes industry grow and that CISIR would be self-sufficient. Dr Mubarak said that to supplement the growing industries, a parallel institution – Development Finance Corporation of Ceylon (DFCC) was established in the same year. DFCC subsequently became an ordinary bank and CISIR had to depend on state funds.
Again, in 1998 WB experts looked into the demand factor to initiate major restructuring centered on demand driven research . He said that the private sector was offered research at a fee while benefits accrued for the society. The name CISIR was then changed to Industrial Technology Institute.
In the sphere of community service to enhance lifestyle of the people, ITI has been involved in several major projects where they research on improving water quality, reducing power and energy costs and are offered free to the people at a common scale.
Focusing on demand driven research has paid off sufficiently with ITI income of Rs 30 million in 2000 rising sharply to Rs 150 million in 2010 – a five fold increase. Desired aims cannot be reached with low investment on research.
Scientists and researchers lack market orientation as they devote almost their entire time and energy on research, reaching achievements in one project and moving to another. It is common to ITI too and the marketability or rather the approach to market of many ITI products appear to be low.
Examples are ITI scientists have invented lime preservation methods through a sports health drink that is now marketed as reported in the BT. But, recently it was found that large quantities of lime in the cultivation locations were rotting and was sold at as low as Rs 2 per kilo with the innovative product having no bearing on excess production.
Dr Mubarak said that ITI is mustering the services of top scientists in their cadre and with all the constraints as a government institution are fully stretched to keep abreast with the modern science, technology and research strategies that are progressing elsewhere in the world.
Asked as to why this negative condition of not having a proper marketing approach, which nullifies the excellent work of the scientists, he said they are now seriously embarking on new approaches into this aspect and have already set up a 'Marketing and Business Development Unit'.
Dr Mubarak is highly qualified and his credentials and versatility to head this premier research institute is commendable because of the single factor that he has withered the ups and downs and pressures to continue in ITI for the last 30 years, from the time he joined ITI in 1976 just after passing out of the university, first as a researcher and subsequently climbed to the top-most position with proven hard work.