Sri Lankan firm Piramal Glass Ceylon Plc (PGC) this week reported record profits for F2011 saying it performed exceptionally well in all spheres of the business. Revenue achieved for the year was Rs.4.16 billion showing a growth of 18% as against Rs.3.52 billion for the previous year. Profit After Tax (PAT) was Rs.578 million, close to 14% of turnover as against the loss of Rs. 61 million recorded in F2010. With this exceptional performance the board of directors has declared a first & final dividend of 30%, according to a company statement.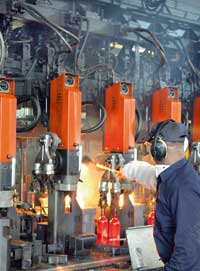 The factory
PGC's Chief Executive Officer and Executive Director, Sanjay Tiwari while announcing PGC's results said, "We're proud to report the best ever annual results for PGC. This year we started reaping the returns of the extensive investments on our new facility at Horana."
The statement said with peace being restored in the region, the domestic market contributed significantly during the year under review. The various segments of local market added towards the domestic market growth of 34% from Rs.2.35 billion to Rs. 3.16 billion. Volume-wise also there was a growth of 26%.
The main contributor to the profitability was the premium export market segment. The company ensured that the export sales crossed the Rs.1 billion mark for the second consecutive year. It said the export product portfolio saw a gradual shift from mass market to high end premium market segment yielding higher realizations. Speciality (high end) market segment grew by 24% in volume from 8,607 tonnes to 10,660 tonnes whilst the company voluntarily reduced the mass market segment by 60%.
The manufacturing facility also contributed to ensure a cost effective bottle being produced. Improved efficiencies & speeds contributed towards the final profitability. Vijay Shah Chairman Piramal Glass Ceylon PLC said, "We are confident that with the growing domestic markets coupled with potential of premium export market, the company would continue to strive towards excellent performance in the future too. We also would like to acknowledge the trust and confidence placed by our stake holders. We have been suitably rewarded by way of a proposal of 30% final dividend for the year 2010/11."