The father of a former LTTE female cadre who married a soldier last week in Kilinochchi said he was happy about his daughter's marriage as such unions could help boost national unity. Former LTTE child soldier, Sharmila Chandrasegaran married soldier E.M.D. Sandaruwan and a reception was held at the Kilinochchi Maha Vidyalaya last week.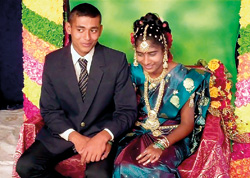 The happy couple at their reception (above) and (below) the couple with the girl's father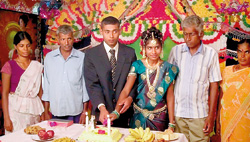 Perumal Chandrasegaran, 58, the father of the bride, was displaced during the riots of 1977 from Deraniyagala. He moved to Kilinochchi where he settled in the village of Malayalapuram.
"My son and daughter were both born in Kilinochchi and my son was recruited by the LTTE in 2003. After about three years he managed to escape, but then my daughter was taken away by the rebels when she was 13," he said.
He said his daughter was with the LTTE for nearly three years and managed to escape only during the last stages of the war when the military moved in. "When we walked out from the former LTTE held areas my daughter was taken for a rehabilitation programme initiated by the government for LTTE combatants," he said.
Mr. Chandrasegaran said his daughter was released from the Pampaimadu Vavuniya camp in May 2010 after completing the rehabilitation programme. "After she returned home she continued her studies at the Kilinochchi Central College. It was soon after that she fell in love with a soldier, whose camp was situated close to our home. They married last week and they now live in our house," said a happy father.
"The war is over and we should live in unity. My daughter's marriage to a soldier symbolizes this unity," he said.
Brigadier Hapuarachchi responds
Meanwhile Director Media and Military Spokesman Brigadier H A N Hapuarachchi has sent the following response to the story and picture that appeared on Page one of the Sunday Times (Late City Edition) last week.
"Your immediate and kind attention is hereby drawn to the Photo Story, captioned 'Soldier Weds ex- Tigress' on Page 1 of the 'Sunday Times' of January 29 2012. "The 18 year old bride in question in your story had never undergone the government's rehabilitation programme for LTTE cadres, nor had she been an ex-Tigress or a child soldier as stated erroneously in your newspaper.
"Needless to reiterate, the publication of this interesting but grossly inaccurate story with extensively damaging information of high sensitivity, has brought about a very deep sense of dejection and excitement among all those concerned, including the newly married couple," the response said.