The three member Bench of the Supreme Court directed on Thursday to issue notice on the respondents and listed for support on February 13 the fundamental rights petition filed on behalf of 16 students and the Ceylon Teachers' Union challenging the results of the GCE Advanced Level Examination held last year.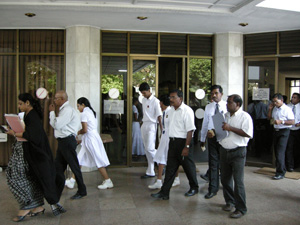 Parents and students with their lawyer leaving the Court premises on Thursday. Pic by Athula Devapriya
The Bench comprised Chief Justice Shirani Bandaranayake and Justices N.G. Amaratunga and K. Sripavan. Attorney J.C. Weliamuna appearing on behalf of the petitioners cited Examinations Commissioner General W.M.N.J. Pushpakumara, the University Grants Commission and Education Minister Bandula Gunawardena among the respondents.
The petitioners claim that there are disparities between the district and island wide ranks in the provincial results released online. There were instances where the students had received marks for subjects they had not sat for.
The authorities concerned admitted lapses and a commission was appointed to look into the matter and rectify mistakes, if any. The mistake apparently made was that the Z score calculation was made for both the new and old syllabuses taken as one.The petitioners request that the results released be declared null and void and fresh results be calculated in the correct format. -Teles