Claiming that the authorities have failed to give them even an assurance on their demands, Nurses unions say they are planning countrywide strike action that could cripple public health services.
Government Nursing Officers' Association (GNOA) President Saman Rathnapriya said talks aimed at winning their demands for a pay hike and better facilities had collapsed with Health Ministry and Treasury officials not even giving them an assurance.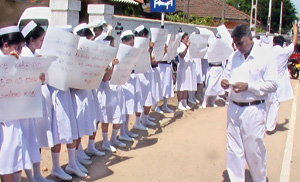 Nurses on a protest campaign at the Dambulla Hospital on Tuesday. Pic by Kanchana Kumara
He said they were being forced to take tough trade union action because it had been two years since they started their struggle to win these demands and even letters to the Health Minister and the Ministry's Director General had received no response.
Mr. Rathnapriya said that apart from the pay hike, their demands included streamlining of the overtime payments and an upward revision of the risk allowance, theatre allowance, uniform allowance and the inventory allowance in keeping with present realities.
He said other issues facing the state-sector nurses included the failure to absorb nursing graduates into the public health service, the denial of promotions and the non-operation of a proper transfer system.
The union leader said nurses in the state sector were not paid the telephone allowance given to doctors while the five-day week rule did not apply to them. GNOA's Kandy branch head Sisira Ekanayake charged that state-sector nurses were ill-treated while doctors were given all the benefits. He said Kandy nurses would launch a protest campaign in the coming days in support of their demands.
A Health Ministry official said the talks had not collapsed and the demands were being studied.