Wijeya Newspapers Ltd, the Sri Lanka Press Institute (SLPI) and the Press Complaints Commission of Sri Lanka (PCCSL) have set up stalls at the Deyata Kirula exhibition which was declared open by President Mahinda Rajapaksa yesterday.
The President said that the exhibition at Oyamaduwa in Anuradhapura was not just a tamasha, but a display of the country's future prosperity.
He said the Anuradhapura area was selected to hold the 64th Independence Day celebrations this year because of its historical value.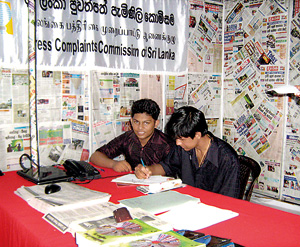 Two visitors to the PCCSL stall last evening