More than 300 complaints against the posting of obscene and personal pictures of persons on Facebook – the social networking service - have been made to the Criminal Investigations Department.
The CID's Cyber Crime Division is probing the cases which also include a few cases of hacking into Facebook accounts.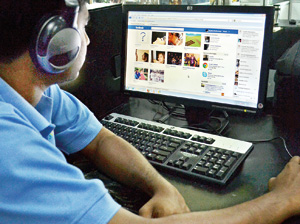 There are complaints where false Facebook accounts have been created under a person's name and obscene pictures included in it. Pic by Hasitha Kulasekera
Nearly 70 per cent of the cases were instances where, after jilting the lover, one party posts personal pictures and videos recorded secretly, he/she would have shared during their affair, an officer involved in the investigations said.
He said that in some of the cases chat-conversations on Facebook between the couple have been saved or recorded and published. Also among the complaints were instances where nude pictures too had been posted.
"There are also cases where persons have been blackmailed demanding money or instances of threatening to blackmail unless sexual favours were granted, if the demands were not met," he said.
In one of the cases a girl receiving higher education had responded to a 'friend request' on Facebook. After several months she had posed in a semi-nude position, which had been captured on video via a web-cam. A few months later the man had started demanding money if she wanted the pictures not to be made public.
The man was arrested following a complaint lodged by the girl. He said there were also complaints where fake Facebook accounts had been created under a person's name and obscene pictures included in it.
An officer said that people using Facebook should take precautions when using the social network system. "Whenever a request is made by an unknown person to add you as a friend you check out carefully who the person is and the friends of that person already on Facebook.
"You can also use some of the settings available on the system where any person has limited access to your account. After monitoring the person for some time you can decide whether the person should remain in your network," he said.
He said people could contact the Cyber Crime Division in the event of any violation of their privacy.