Opposition UNP Leader Ranil Wickremesinghe yesterday called the people to rally round to protect 'democracy plus' that will ensure law and order as an answer to 'thirteen plus'. Mr. Wickremesinghe addressing a UNP organisers' meeting in Matara said, if 'democracy plus' is ensured achieving 'thirteen plus' was not difficult. The meeting was held at UNP MP Mangala Samaraweera's residence.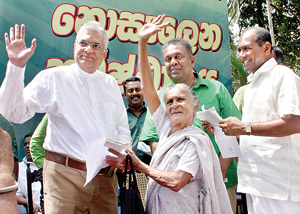 Ranil Wickremesinghe waving to supporters. Pic by Romesh Dhanushka Silva
"If the government fails to ensure 'democracy plus' we will achieve it through the struggle of the people," he said. He said during the colonial rule law and order was protected and the police and the judiciary were independent. "The people had freedom of speech and were able to express their ideas while media freedom too was protected," he added.
Referring to achievements of past UNP leaders, he said, the late D.S. Senanayake rallied the Sinhalese, Tamils and Muslims and people of various religious faiths to gain independence while protecting the identity of the nation and ensuring national unity.
Under President J.R.Jayewardene's rule Mr. Wickremesinghe said measures were taken to guarantee human rights through the constitution. In the development sphere he pointed out that the accelerated Mahaweli project and the opening up of the economy were all done during the reign of the UNP.
Now, however the opposition leader said democracy and law and order have collapsed while there was no independent police, public service and electoral system or free education and health services.
"This means that the democracy enjoyed during the colonial rule is no longer enjoyed by the people of the country.We need to rally round to protect law and order," he said.