The sacred city of Anuradhapura, once the kingdom of many an illustrious ruler of the country, was transformed into a place of pomp and glory yesterday, as the city took centre stage for the nation to celebrate its 64th anniversary of Independence from foreign rule.
President Mahinda Rajapaksa led the nation in celebrations held in the historic city, the highlight of which was the military parade with the participation of more than 2,500 members of the Sri Lanka Army, Navy and Air Force, as well as members of the Civil Defense Task Force.
Flanked by the Commanders of the tri-forces and the Inspector general of Police (IGP), the President, in his brief address, reiterated his Government's commitment to parliamentary democracy, the rule of law, an independent judiciary and good governance.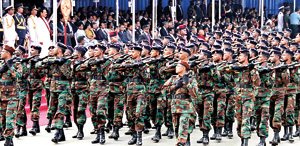 "We are committed to defend the right to make and break governments through universal suffrage. We all know that Parliament, representing people inclusive of all parties, ethnic communities and religions, is the supreme democratic institution," he said.
As an obvious rebuff to 'traditional homeland claims made by certain sections within society, the President said, "Ethnic communities have no separate regions. The entire country belongs to all ethnic communities."
Thousands of people had converged along Sri Sambuddhathwa Jayanthi Mawatha to witness the celebrations, which also marks the commencement of the week-long "Deyata Kirula" exhibition at Oyamaduwa in Anuradhapura.
The area has seen massive infrastructure development and beautification projects in the past few months, as part of the preparations for the national celebrations.
Near 2,000 invitees too participated at the events, including large numbers of the Buddhist clergy, as well as from other faiths, along with Ministers, MPs and diplomats, while a large number of cultural troupes representing all ethnic groups, added colour to the celebrations.