An illicit abattoir operated by an underworld gang in the Kotahena area for more than three years, was raided by the Police this week. It was public knowledge that the abattoir located on Maha Vidyala Mawatha, Colombo 13, close to schools, residents and business establishments was in operation.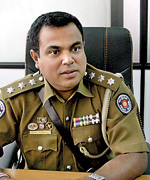 Chamil Ratnayake. Pic by Athula Devapriya
But no action was initiated until last Sunday when Colombo Senior Deputy Inspector General (DIG) Anura Senanayake ordered the Colombo Fort police to raid the location. A group of 30 armed policemen stormed the location shortly after dawn.
Colombo Fort Police Chief Inspector Chamil Ratnayake who led the raid, told the Sunday Times that they were initially told that they could not enter the place as it was a licenced abattoir. "We were told that the animals are being slaughtered for a religious festival, and hence, the police could not enter the place. We asked them for a permit, but they did not possess one," he said.
"We recovered 59 goats, five sheep, some fowls, ducks and one cow ready for slaughter, while at least 16 cattle had already been slaughtered. It was a disgusting sight inside, as the heads of some of the cattle slaughtered a week back were still there," he said.
He said the place was unhygienic and not suitable to accommodate so many live animals.
"The animals were being slaughtered in a cruel manner too," he said. Investigations revealed that the illicit abattoir was one of the main supplier of beef, mutton and chicken to the meat stalls in Colombo, and some of the smaller hotels.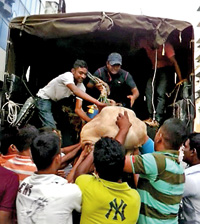 Some of the animals who were set free during the raid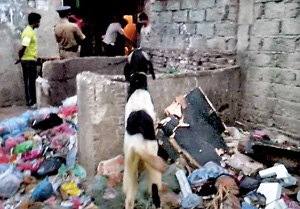 Unhygeinic surroundings
"The abattoir owners were able to attract the local market, as they were providing beef at cheap rates. They could afford to do so because they had no licence and no health checks on the animals, which other abattoirs followed," he added.
He said that investigations revealed that most of the cattle had been transported to Colombo illicitly from the outstations, enabling them to sell beef at cheap rates. Senior DIG Senanayake said action would also be initiated against officials who failed to act against the illicit abattoir.
"This is an illegal operation mainly led by the underworld and gangsters, which went unnoticed for the past three years. They were supplying beef and other meat under unhygienic conditions," he said.
"If the public know of any illicit abattoirs operating in Colombo, we should be alerted and immediate action will be taken," he said.
Meanwhile, the four suspects who were produced at the Maligakanda Magistrate's Court, following the raid were remanded till February 13.